Condo Insurance
We customize. You could save on your condo insurance.
Enter your ZIP code to start your custom quote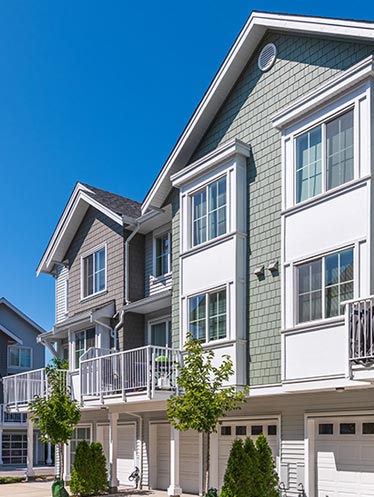 What is Condo Insurance?
Condo insurance is an insurance policy purchased by the condo owner that helps cover costs associated with property damage to the unit or loss of personal belongings. Think of it as homeowners insurance for a condo.
However, make sure you also understand what is covered under your homeowner's association (HOA) policy, sometimes referred to as a Master Condo Policy, before deciding on your coverage. Your association's insurance policy typically covers common areas of your building but may leave the interior of your unit and your personal possessions vulnerable.
What does Condo Insurance cover?
Damage to someone else's property

Personal liability if there are medical bills and legal expenses if someone is hurt at your home

Living expenses incurred if you temporarily vacate your condo as a result of a covered loss
Keep in mind Condo Insurance covers your personal property no matter where you are. That's right. It will cover your items if they are stolen from your car, damaged on vacation, or lost while on the go.
We customize your Condo Insurance so you only pay for what you need.
Does Condo Insurance cover me while moving?
Yes, if you are moving your policy will protect your belongings for 30 days from the day you start the move, including if your items are in a storage facility.
How much is condo insurance?
You could have Condo Insurance for as little as $43 a month1, but similar to other types of insurance, the cost of your condo insurance depends on a number of factors. Location, your deductible, and the coverage you choose all impact what you pay.
The good news is condo insurance is typically less expensive than homeowners insurance. When you own a house, you are responsible for the entire structure, inside and outside. With condo insurance, you are usually paying just for coverage of the interior of your unit which tends to make it cheaper than a homeowners policy.
Liberty Mutual customizes your coverage so you only pay for what you need.
Begin your free online quote
What is an HO6 policy?
You're in the right place.
An HO6 policy is just another word for a condo insurance policy. If you're looking for an HO6 policy, no worries, you've found it. This term is generally interchangeable with "condo insurance."
Understand your condo coverage options
Personal Property
Your TV is stolen from your condo. This will help you replace it.
Liability
Someone slips on your kitchen floor and breaks their wrist. This would protect you from a legal claim the person may bring against you.
Dwelling
A pipe breaks in your kitchen and damages the hardwood floor of your condo unit. This will help with the cost of repairs.
Blanket Jewelry
After taking your engagement ring off at the beach, you find you've lost it in the sand (gulp). This will help you get a new one.
Why choose Liberty Mutual for Condominium Insurance
You'll work with a dedicated insurance agent who's an advocate in your corner.
You'll get all the coverage you need—and nothing you don't.
We've been helping people like you protect what they love for more than 100 years.
We're rated "A" (Excellent) financial by A.M. Best Company4
Looking for some advice? We can help.
Begin your free online quote
1
Based on the average premium for condo policies as of April 2017.
2
12% Auto Discount: NOT AVAILABLE IN CA, HI, MT, WY, ND, SD, AK, NC. Discount amount varies by state and reflects average savings as applied to certain auto coverages.
3
Savings validated by 2019 countrywide survey of participating new customers who switched to Liberty Mutual and saved. Savings may vary. Comparison does not apply in MA.
4
A.M. Best Rating Services, 2021. http://news.ambest.com/PressContent.aspx?altsrc=2&refnum=30871