Are new cars more expensive to insure?
Buying a new car is exciting! But before you buy, make sure you know how a new vehicle can impact what you'll pay for auto insurance.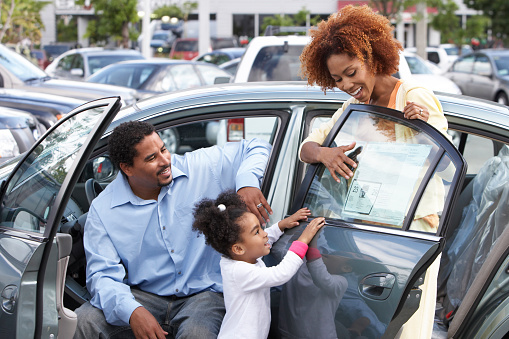 In many cases, a new car can make your car insurance go up. To help explain, we've gathered some common reasons new cars can be more expensive to insure.
Depreciation and replacement value
When insuring a car, a major factor that affects cost is the vehicle's value. New cars generally have higher values so insurers consider this when determining premiums. Additionally, new cars can experience fast depreciation.
Depreciation starts when a new car is driven off the lot, losing as much as 20% of its value.1 This is important because, some car insurance coverages only pay for the actual cash value of the vehicle, not what you paid for it. This can create what's called a "gap" between what you owe and what it's worth. This is a good reason to consider Gap Coverage if you're financing in your new car.
For example, your new car is stolen or totaled in an accident
Purchase price (loan amount): $20,000
Depreciation (20%): $4,000
Actual cash value (ACV): $16,000
In this case, if you have the coverage for the loss, your insurance would pay $16,000 or ACV. However, you would still owe your lender $20,000, meaning you'd need to pay $4,000 out of pocket. Gap insurance can help cover the difference between the insurance payment and what you still owe on your auto loan.
Advanced technology and repair costs
Many new cars have complex electronics and technology. While this technology enhances driving experiences and improves safety, it also contributes to higher insurance costs.
Advanced sensors, cameras, and touchscreens, for example, can have a significantly higher price tag to replace and repair than more conventional parts and repairs. Insurers account for these expenses when calculating premiums for new cars.
Theft and vandalism risks
New cars, particularly luxury brands, can attract more attention from thieves due to their desirability and higher resale value.2 Even if a stolen car is recovered, they are often found with missing parts, damaged, or vandalized. Consequently, the increased risk of theft and associated damages contributes to often higher insurance costs.
To reduce these risks and your insurance costs, you may want to consider a new vehicle with
A GPS tracking system
Immobilizers (prevents the engine from starting without the key)
Other anti-theft devices
Financing and lender requirements
Lenders often have specific coverage requirements to protect their financial investment (your car). Often this means that they'll require you to have Comprehensive and Collision Coverage as part of your of your policy.
These additional coverages, which are optional if you're buying your car outright with cash, can significantly increase insurance costs for a new car.
The good news is there are things that can help offset the insurance costs of owning a new vehicle.
Safety features such as automatic braking, lane assist, and collision warning make a new car safer and less of a risk to insure.
Anti-theft devices can be a big plus in preventing thefts. As a result, many insurers may offer a discount for having them.
Manufacturer insurance programs are sometimes offered by car companies. These partnerships can help lower the cost of insurance on a new vehicle, so it can be worth looking into.
Opting for higher Comprehensive and Collision deductibles can help lower your insurance costs on a new car. However, if you're financing your vehicle, check with your lender about any deductible requirements.
Maintaining a good driving record ensures you're getting the best auto insurance rates. Tickets or accidents on your record? Check to see if any tickets or accidents that have been on your driving record for a while should be removed.
Begin your free online quote
Please note: Information presented on this page is intended to be general information about insurance and is not specific to Liberty Mutual policies. Policies and coverages vary by state and insurer. Contact your insurance company to understand specifics regarding your policy and coverages.
1
https://www.lendingtree.com/auto/how-much-do-new-cars-depreciate/
2
https://www.cars.com/articles/these-vehicles-are-most-vulnerable-to-theft-says-iihs-457296/