5 Steps for insuring your new car
Whether it's a brand-new car or just new-to-you, buying a car is exciting. But before you head home, check with your local laws to see what insurance is required.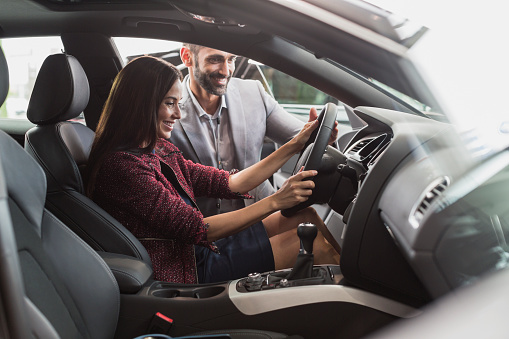 We'll show you how to get insurance on your new car before you drive it off the lot, along with answers to common questions about getting coverage.
Follow these 5-steps for insuring your new car
1. Provide proof of insurance
To drive your new car off the lot, the dealership may require you to show proof of insurance.
If you already have an active auto insurance policy, you can just call your agent or insurance company to have them add it to your policy. Once your new car is added to your policy they can fax or email you a proof of insurance card. With Liberty Mutual, you can easily add vehicles and get proof of coverage right from the app or online.
If you don't currently have car insurance, then you should get coverage. When getting quotes, you'll need to provide information about yourself, your driving history, and car. Some basic information can include
Name and address
Driver's license
Car's VIN
What you use your vehicle for (ex., business, ridesharing, personal, occasional use)
People in your home that will regularly drive your new car (names, birthdates, Social Security numbers)
Remember that if you switch to a new car insurance company, you should wait to get your new policy before canceling your current coverage!
2. Know your grace period
In most cases, just showing the dealership your current proof of insurance card should be enough for you to drive your new car home. However, you have a limited amount of time to add your new car to your policy.
Most auto insurance policies have a built-in grace period that lets you drive your new car off the lot with the same level of coverage you had on your previous vehicle. Typical policy grace periods are between 1 week to 30-days1. After that, you'll need to add your new car to your policy to be covered.
If your current auto insurance policy has a grace period, find out how long you have to add your car to your policy. If it doesn't have a grace period, you may have to wait until you can add your new car to your policy before driving it off the lot.
The bottom line is that the sooner you get new car insurance for your new ride, the better.
3. Locate your vehicle identification number (VIN) and contact your insurance company
A vehicle's identification number or VIN, identifies the exact make and model of a car, making it easy to get a quote, start a new car insurance policy, and add a new vehicle to an existing policy.
The most common place to find a VIN is on your vehicle's dashboard, near the edge of the windshield on the driver's side. The VIN can be read from the outside of a vehicle looking in.
Car shopping on the weekend or after hours? Adding a new car to your existing policy is super easy if you know your VIN. In most cases, you can go online to your insurance company's website or app and add your new car by plugging in your new car's VIN.
4. Review your coverages
When adding a new car to an existing insurance policy, the same level of coverage on your previous vehicle will typically extend to your new car-unless you make changes to your policy.
When adding your new car, you'll want to review your coverages and make any necessary changes. This includes any leasing or financing requirements specified by your new lender. For example, your lender may require Comprehensive and Collision deductibles to be set at $500 or lower.
5. Ask your insurer about Multi-Policy Discounts
Don't be shy about asking about Multi-Policy Discounts and other types of discounts that can save you money on insurance.
At Liberty Mutual, we offer lots of ways for you to save on your new car insurance. Browse our comprehensive list of discounts and then begin your quote to find out just how much money you could save each month.
In addition to discounts, you can customize your insurance so you only pay for what you need.
FAQs about getting insurance on a new car
Do new cars cost more to insure?
There are a number of things that can impact your insurance rates. In general, a new car will likely cost you more to insure due to its value, cost to repair, special features, risk of theft, etc.
Plus, if you're financing your new car, lenders will typically require you to carry more insurance and lower Comprehensive and Collision deductibles that can also increase what you pay for your new car insurance.
Am I covered by insurance from the dealership?
No. The insurance that a dealership carries on its vehicles provides protection so that potential buyers can safely test drive their cars. Once you purchase your new car, you must get your own insurance.
What if I'm selling my old car and replacing it with a new one?
If you're planning on selling your existing car and replacing it with something new, the insurance process isn't any different than if you traded in an old car at the dealership.
Just contact your insurance company and have them replace your old vehicle with your new one. Depending on your insurance company, you may also be able to remove your old vehicle through an app or online. Don't forget to have your new car's VIN ready!
When does my new policy start?
If you're starting a new insurance policy for your car, your coverage begins the moment your coverage is purchased and your policy is issued. Keeping your new car insurance policy in good standing by making on time payments ensures that you'll have coverage in the event of a loss.
Can I buy a car without insurance?
Yes, you can buy a new car without insurance. However, the laws in most states won't allow you to legally drive your new vehicle without proof of insurance. In terms of the law, new and used cars are treated equally.2
Begin your free online quote
Please note: Information presented on this page is intended to be general information about insurance and is not specific to Liberty Mutual policies. Policies and coverages vary by state and insurer. Contact your insurance company to understand specifics regarding your policy and coverages.
1
https://wallethub.com/answers/ci/how-long-do-you-have-to-get-insurance-after-buying-a-used-car-2140714604/
2
https://www.consumerinsurancereport.com/faqs/can-you-buy-a-car-without-insurance