How to get the best car insurance rate for teens and new drivers under 25
How to get the best car insurance rate for teens and new drivers under 25
Teens and other new young drivers under 25 can get good, affordable car insurance despite generally being considered higher risk.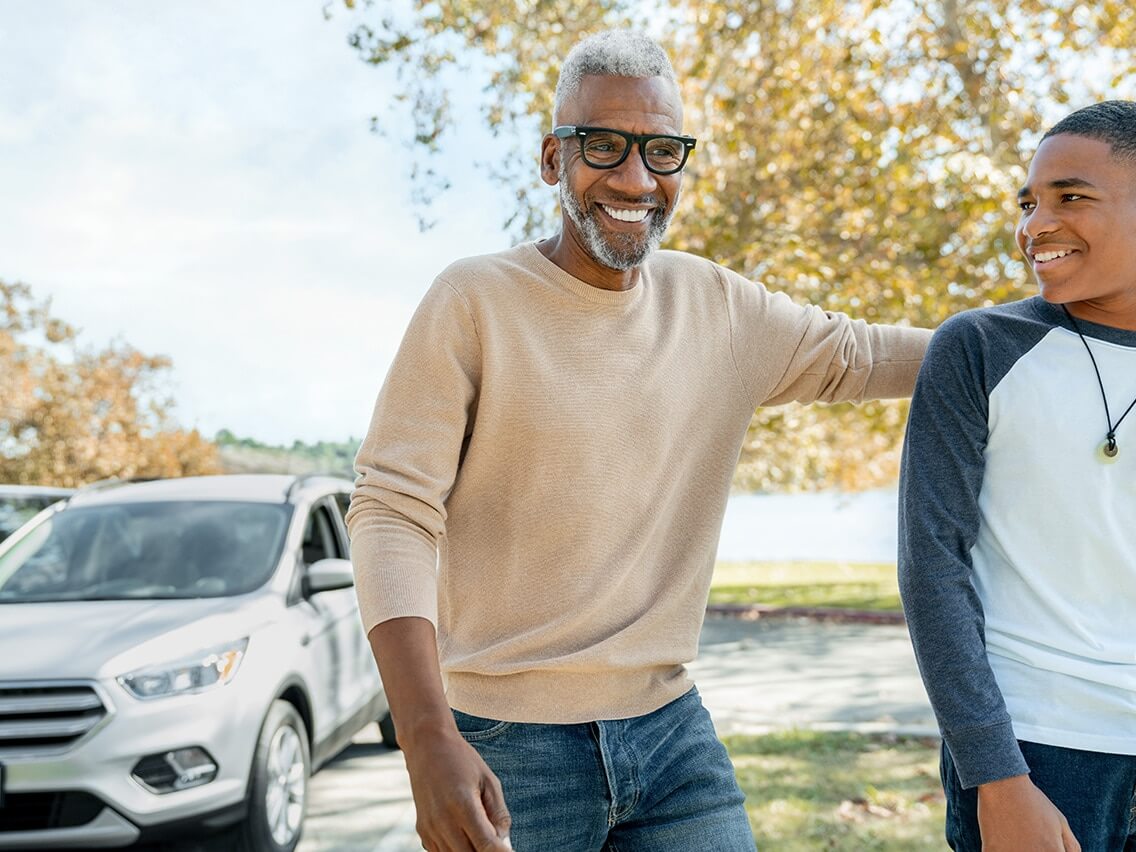 Being under 25 does not limit the types of car insurance coverage you can choose from, and you may even be eligible for special discounts.

If you're an existing Liberty Mutual Insurance customer, you can add a teen or new driver by managing your policy online.
How can I get the cheapest car insurance for teens or other new drivers?
Add your teen or new driver to an existing policy
Often, the way to get the cheapest car insurance for drivers under 25 is to add the new driver to an existing policy of a parent or guardian. This will likely cause the existing policy rates to increase, but it's usually the most cost-efficient option.
If you've added a teenage driver to your policy within the last year, you could qualify for Liberty Mutual's New Teen Driver Discount.1 Also, if you're adding an additional vehicle to your policy, you may be able to get a Multi-Car Discount to help offset some of the new costs.2
Keep in mind that adding a new driver to an existing policy is not always the recommended way to get cheap car insurance for teens and young drivers under 25. For instance, if a parent or guardian has serious driving offenses or multiple violations, it may be cheaper for the new driver to get their own policy. The best way to find out is to get an auto insurance quote for your teen or add the new driver to your existing Liberty Mutual policy to see how much your premium changes.
Choose a higher deductible
Raising your collision and comprehensive coverage deductibles for your teen means a lower premium and monthly payment.
Your deductible is the amount you pay out of pocket before coverage kicks in in the event of an accident. In most cases, this amount is deducted from your payout after a claim. Just make sure you don't raise your deductible higher than the amount you could comfortably pay out of pocket in the event of an incident.
Check for Good Student discounts
At Liberty Mutual, students receive a discount for obtaining a GPA of a B or higher with our Good Student Discount.2 You can now add, "because it saves money" to the long list of reasons you want your teen to keep their grades up.
Depending on your student's situation, you might also qualify for a discount3 if your student is away at school and only drives occasionally.
Check for multi-policy discounts
If you're not on your parent or legal guardian's policy and you have a renters or home insurance policy, you might be able to get a multi-policy discount when you bundle your auto insurance with your home insurance.
Provide documentation of driving school or a defensive driving course
Driving school can be fun and cost effective. It allows teens to learn with their peers and it can even lower their insurance rate. Ask your insurance company if they offer a discount for this type of training.
Always drive safe
Safe driving not only protects you and others while you're on the road, it can help you save money in the long term.
Distracted driving is one of the lead causes of accidents for teens and young drivers. Be sure you're creating a safe environment for your teen or yourself when driving. Cellphone use should be for navigation or emergencies only and make sure it's in a secure location. Avoid eating and multi-tasking so your focus can be 100% on the road and your surroundings.
Avoid accidents and moving violations to help keep your insurance costs low. Most insurance companies reward safe driving with discounts and having an accident-free and moving violation-free record will prevent your insurance rate from increasing.
Why is car insurance more expensive for teenagers and drivers under 25?
Unfortunately, the rate of car accidents per mile driven are disproportionately high among young drivers, and particularly, drivers under the age of 20 according to data from the National Highway Traffic Safety Administration.
Teens and other young drivers are less likely to safely navigate difficult driving conditions or react as effectively to unexpected hazards compared to more experienced drivers. Increased accidents lead to more claims and insurance companies compensate for these costs through the premiums they charge to younger, higher risk drivers. Learn more about how to help keep teens save while driving.
Do car insurance premiums decrease at age 25?
Car insurance costs for a new driver typically decrease incrementally with each new year of driving experience up to age 25, assuming a good driving record. While all insurance companies' policies are different, if you are a teen or young driver and your rate did not decrease after a year or two of safe driving, get in contact with your insurance company or start shopping for car insurance quotes.
How much is car insurance for someone under 25?
The average annual car insurance cost for a 25-year-old in the United States is $3,348.3 This is 55% less than the average premium for an 18-year-old, which is $7,396. Keep in mind that costs will vary significantly by ZIP Code, type of vehicle, driving history, elected coverage, and many more factors.
For instance, if your teen is driving a car equipped with certain safety features, they'll be that much more likely to avoid an accident. That's why so many insurance companies offer a discount for features like lane-assist and anti-lock brakes. Check out our list of mistakes to avoid when buying a car for a teen.
What is the best car insurance coverage for teens and other new drivers?
States have different requirements for what is considered the legal minimum required car insurance coverage for all drivers. Additionally, if you lease or finance your car, you may be required to have comprehensive and collision insurance.
Regardless, teens and those under age 25 may want to consider adding additional coverage beyond required minimums to account for their increased risk of accidents. This may require more costs up front but could save you money later if accidents do occur. For instance, collision coverage can help cover the cost of damage to the car your teen is driving and pay for damages to any cars they may hit.
24-Hour Roadside Assistance coverage can also be a good idea for teens and give parents peace of mind. It can help them 24/7 in the event of a flat tire, a breakdown, or if they get locked out of their vehicle.
Read more about all of our car insurance coverage types or get an online car insurance quote for your teenager.
Begin your free online quote
Please note: Information presented on this page is intended to be general information about insurance and is not specific to Liberty Mutual policies. Policies and coverages vary by state and insurer. Contact your insurance company to understand specifics regarding your policy and coverages.
1
This discount applies to teen drivers that are under the age of 21.
2
Discounts and savings are available where state laws and regulations allow, and may vary by state. Certain discounts apply to specific coverages only. To the extent permitted by law, applicants are individually underwritten; not all applicants may qualify.
3
https://www.valuepenguin.com/average-cost-of-insurance